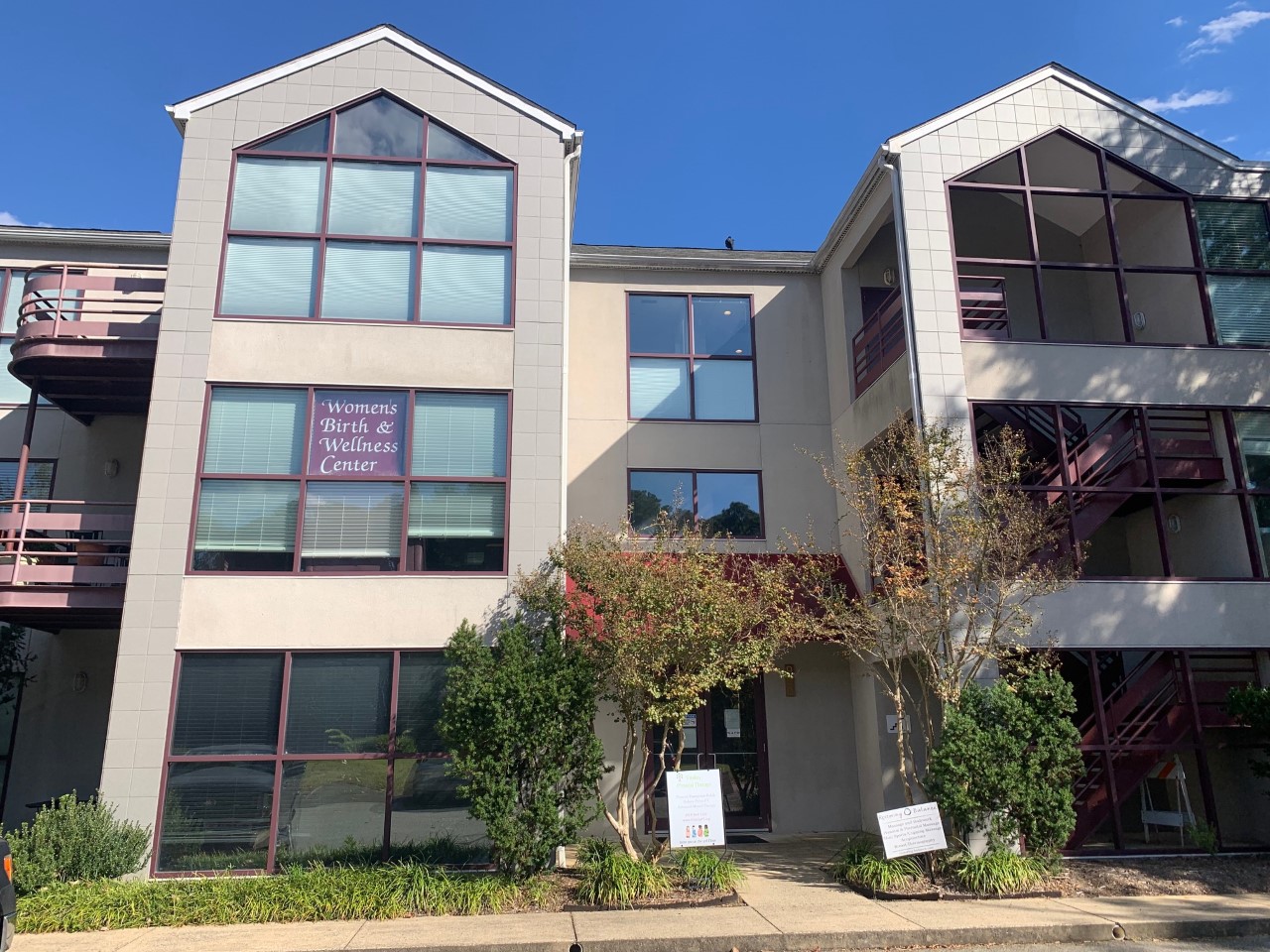 Rumors the Women's Birth and Wellness Center was closing its Chapel Hill clinic began circulating online last May, when the clinic stopped accepting new patient birth requests. Renewed speculation began on Reddit in September as users discussed how after 27 years of serving North Carolina women and families, the clinic may be closing for good.
Until this year, WBWC was the oldest, continually-operating, birth center in North Carolina.
After calling the clinic for the past several weeks to make an appointment and getting no answer, to hear the clinic could be closing comes as no great surprise — but it is devastating news for many local people seeking affordable, compassionate healthcare for pregnancy, including me. I have been a WBWC patient since 2015, when I became pregnant with my first and only son.
I paid a visit to the clinic on October 20, and someone from a neighboring business relayed to me that I was not likely to be able to reach anyone there for an appointment anytime soon, as the main clinic offices on the second floor are closed. He also told me the WBWC Boutique next door has closed permanently.
In walking up the stairs to the second floor, I observed the door leading into the clinic and boutique entryway was locked, and a sign on the closed Boutique door read "We are closed," despite the clinic being listed as currently open on its official website and in search results online.
However, the neighbor I spoke with said the clinic management maintains it is currently "rebranding," and has plans to resume services again soon. A sign posted on the first-floor door of the building reads that the clinic is "undergoing rebranding" and have "paused all patient services, effective September 30, 2022."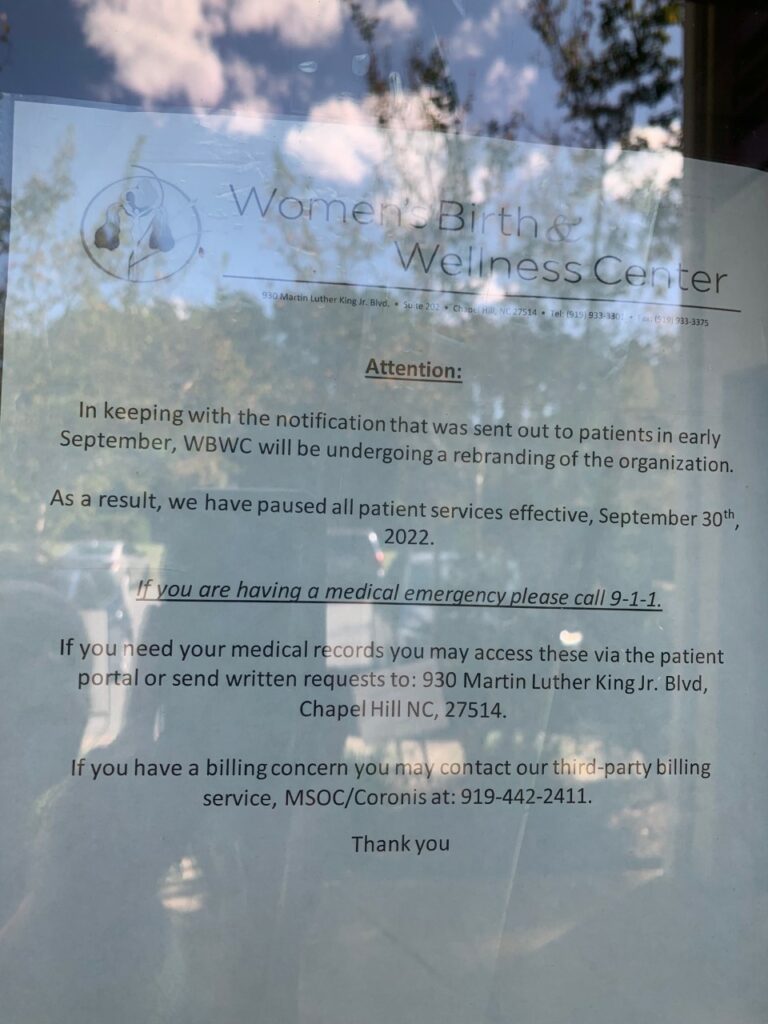 The WBWC Board of Directors emailed a statement to patients on May 20, 2022. Part of that statement reads as follows:
"There has been a great deal of confusion and misinformation shared recently about WBWC. We stand steadfast by our founding principles to offer people in the Triangle a center for midwifery and wellness excellence, specializing in the midwifery model of care. WBWC is dedicated to providing people of diverse cultural and socioeconomic backgrounds person-centered, holistic, trauma-informed, and gender-affirming maternity, lactation and primary health care throughout the life cycle. We serve patients regardless of sexual orientation, gender identity, race, religion, ethnicity, or immigration status."
The statement by the Board continues to explain how in the past several years WBWC has seen a great deal of change:
The Center was founded in 1995, and as a nonprofit in 2003 by midwife Maureen Darcey. She brought a passionate dedication to the midwifery model of care and led the Center until her unexpected health diagnosis in late 2018.
In 2020, the Board of Directors in 2020 selected Lisa Lowe-Hall as the Executive Director of WBWC, serving in a co-leadership role with an experienced Clinical Director.
In 2021, "despite good faith efforts to make the [co-leadership] model succeed," clinic leadership made the decision to move to a single director model — with Lowe-Hall as the Executive Director.
The Clinical Director then resigned, and the role was transformed into Director of Midwifery, which was filled by a "tenured" midwife on staff at the clinic.
On February 7, 2022 a Primary Care Director was hired and presented a plan to expand the WBWC primary care services. Two additional exam rooms were created, and the clinic was remodeled "to create a neutral space where all patients could feel welcomed."
On April 25, 2022, the Director of Midwifery submitted her resignation to the board and staff following "a leadership-focused workshop with an outside consultant to discuss necessary cultural changes in the organization."
In the days following, several other midwives resigned and, due to understaffing, the center was forced to pause on-site births for patients in May of 2022 – when it began diverting patients to UNC facilities.
A message sent to patients on May 12, 2022, stated the pause in on-site births was temporary, and that WBWC was continuing to provide, "pre- and post-natal care as well as primary care and lactation services."
On September 8, 2022, patients received an email announcing the organization would be "rebranding," without further details on what that could mean for the future of the clinic.
As of the time of posting, an email to Lowe-Hall to confirm whether or when it will resume services, or if the reported closure pertains only to the boutique and not the clinic, has received no reply.
To watch a local institution of women's healthcare virtually dissolve with little to no explanation leaves me confused and heartbroken — not only for myself, as I embark on a search for a provider of similar services, but also for all those who were or would be seeking to deliver there. Now, more than ever, compassionate and affordable pregnancy care is needed, and should be considered an essential service in North Carolina.
---
Chapelboro.com does not charge subscription fees, and you can directly support our efforts in local journalism here. Want more of what you see on Chapelboro? Let us bring free local news and community information to you by signing up for our biweekly newsletter.
Related
Lack of Service at Chapel Hill's Women's Birth and Wellness Center Limits Pregnancy Care Options